"You really should play Quentin Crisp!"
I first heard those words in 1985, when my acting coach assigned me Quentin's witness-stand monologue from
The Naked Civil Servant
. Having just moved to San Francisco from Indiana, I'd never heard of Quentin Crisp. But as I read his book, then watched the BBC film, I realized we were kindred spirits—we'd both suffered through horrendous childhoods being bullied and bashed; yet we had refused to hide our "true selves" from the world. But while Quentin's life had been far harsher than mine, his resolve was stronger as well. I was so impressed and inspired by Mr. Crisp's strength and gentility, I hoped that this wouldn't be the last time I had the opportunity to honor him.
"You really should play Quentin Crisp!"
Fast forward to November 21, 1999. Lamenting Mr. Crisp's passing with my friend, gay activist Gil Block, I hear him speak those familiar words.
So on the way home I called my good friend, Bay Area theatre wunderkind Jeffrey Hartgraves. "Write me a show in which I can play Quentin Crisp," I joked.
I could tell he was intrigued, but since Jeffrey and I frequently bounce ideas off one another, I didn't expect much to come of it. But he called back less than an hour later, with an outline and the first few pages!
Carved in Stone
would feature Mr. Crisp alongside other gay literati Truman Capote, Tennessee Williams and Oscar Wilde, as they welcome a fifth, fictional literary icon to an afterlife lounge. Jeffrey finished the script in a matter of weeks. And to paraphrase Mr. Crisp, "When I first read the script, I knew I wanted it!"
A staged reading confirmed the script was a winner, and Jeffrey began sending it out to theatre companies. But I desperately wanted to do the show myself, so I eventually proposed to Jeffrey that we produce it. We cast several well-known Bay Area actors to complete the cast, wooed award-winning John Fisher to direct, sweet-talked some generous investors, and reserved the
Eureka Theatre
for August 2002.
Then the work really began! I immersed myself in Quentin's world. I watched Jonathan Nossier's 1990 documentary
Resident Alien
repeatedly. Quentin's book-on-tape of the same name found a permanent place in my Walkman. I watched almost all of his film appearances, and read everything written by him or about him.
Brian deShazor
of
Pacific Radio Archives
was invaluable, sending me interviews and other materials. (Phillip Ward and this very website also provided important information!)
Two great dialect coaches, Lisa Jones and Kimberly Mohne-Hill, helped me solidify my British accent. But Quentin's distinctive voice was about more than dialect. I found the right gravely timbre by singing Blondie songs at the top of my lungs while chain-smoking as I drove to the theatre each night. Because the show was fast-paced farce, I couldn't literally recreate the pacing of his voice, so I was free to experiment a little. It ultimately became a mix of Quentin, Joan Collins, Roddy McDowell and Lauren Bacall.
I'm a big believer in the importance of costumes. Although we had award-winning costumer Jim Kumiega on the show, I insisted on shopping for my costume myself. And what fun it was, digging through bins of scarves at thrift stores, finding just the right pins for my lapels, looking for the perfect ring. I found an ideal hat, but it was feared that wearing it on stage would leave me in shadows. So I saved it for my final exit.
But it takes more than clothes to make the man. In my thirties and standing a skinny six feet tall, I was about to play an octogenarian much shorter and stouter—it didn't help that I was the tallest member of the cast! With a big violet-white wig atop my head, we added padding around my middle to add weight, rubber bands around my wrists to age my hands, and so much make-up and latex that I had to arrive at the theatre an hour before the other actors. I grew my fingernails long, like his, and stopped clipping ear- and nose-hair.
Getting his carriage down was easy, actually. Having suffered from a mild hernia, I instantly recognized Quentin's walk as that of a hernia sufferer, whose slightest movement could cause pain. After completing the physical transformation each night, I would spend 20 minutes or so pacing backstage, letting Mr. Crisp take over.
Carved in Stone
opened at the Eureka on August 7, 2002, to wonderful audience response and outstanding reviews. My favorite blurbs were ones that described Mr. Crisp more than myself. Particularly satisfying was the
San Francisco Chronicle
: "Acord is a point-perfect Crisp, gracefully frail, gently sardonic and sweetly wry."
I admit that playing Quentin did "rub off" on me—I found myself becoming much more tolerant. One night before a performance, I was next in line at Starbucks when a customer cut in front of me. As the cashier was about to speak out, I found myself saying, "It's fine. It's too nice a day to be in a rush." Was that me??
I even graciously gave away one of the show's biggest jokes to "Truman Capote" because the line was a little too lascivious for the celibate Quentin. Anyone who knows actors knows they just don't give away dialogue, especially a line guaranteed to get laughs!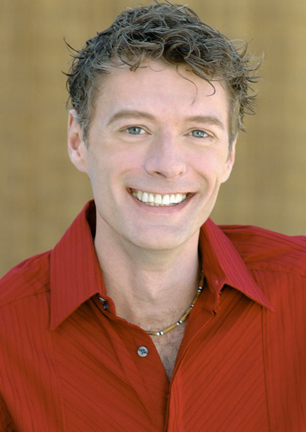 Quentin's main philosophy—live life like you're the only one on the planet—really struck a chord with me. He knew exactly who he was, and had the courage to be just that, bullies be damned. I try to follow that advice to this day. (According to Jeffrey, I already drive like I'm the only one on the planet!)
Jeffrey and I are now working on a Los Angeles production of
Carved in Stone,
and hope to have it on the boards by year's end. I can't wait. As those who saw the show have told me, I really should play Quentin—again!
Leon Acord
has appeared in over 20 films and 25 stage productions. He currently lives in Los Angeles.