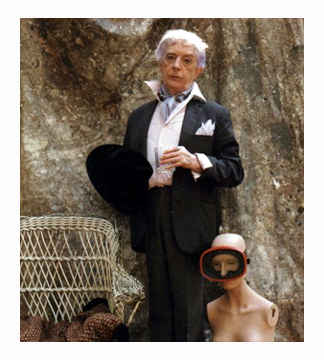 Q: If you died and met God (if there is one) what would you ask him?
A: Well, I suppose I would ask him to forgive me, or do you think I should offer to forgive him?
I had never read
The Naked Civil Servant
, I had never seen the movie, I had never heard of Quentin Crisp—but since I had just agreed to produce his one-man show, I thought I should at least meet the guy. My life would never be the same.
That meeting, as well as subsequent others over the years, took place at the diner on the corner of Second Avenue and Fourth Street, a block from Quentin's one-room dwelling on Third Street (just east of Second Avenue). I called it Quentin's Court and royal was the Court of the Queen of Second Avenue. Passersby felt free to wave, knock on the window, even pop in and pull up a chair. Quentin had an endless supply of admirers—and an odd lot at that.
He explained it this way, "The reason people feel they can approach me is because I have made myself 'infinitely available.' And as many of us knew, Quentin's number is still in the book. As he would say, "People are my only past-time. As long as there are people who are willing to talk to me and be talked back to, I'm happy."
I scored on many major happy myself, hanging out with "Quent" was a blast. (If he, Quentin, hated that moniker, he never mentioned it, so for seventeen years that's what I called him.)
When we were doing the club scene in the early '80s, Quent joked about his B-grade celebrity status, calling our sometime so-called VIP treatment the "Champagne and Peanut Circuit." He loved The Limelight (both literally and figuratively) [The Limelight was a nightclub on 20th Street and 6th Avenue, inhabiting a defunct church.] We'd had the opening night party for
An Evening with Quentin Crisp
in their VIP lounge and in-house publicist Andrea Cilley, whom Quent was fond of, made sure we were invited to only the best soirees. Milos Forman's
Amadeus
party read like a Who's Who with names like Nicholson, Huston, Douglas and Welsch. Oh yes, and then there was Crisp. He called The Limelight "the Titanic of Nightclubs" and expected it to sink at any moment.
After our two successful runs at the Actors Playhouse in New York in 1983 and 1984, we hit the road with his one-man show. I'd rent a two-bedroom corporate apartment where we'd be roommates for a month at a time. Two weeks were spent pre-promoting the show, and then we'd have a two-week run of Quent on stage. Wherever we went, we were the toasts of the town doing television, radio and print interviews, while making personal appearances at restaurants and nightspots. There was always a gracious host willing to wine and dine us for the opportunity to be with Quentin. I doubt we ever paid for a single meal!
Quent was in heaven holding court in each city with a slew of adoring fans; this was Quentin Crisp at his best. Once when we were in Boston, he was asked how he liked the city. Quent replied, "I'm not very touristy. I don't go places to see, I go places to be seen!" And seen he was, with full media blitz going on, there was no one, and I mean no one, like it or not, who didn't know who Quentin Crisp was. But we never got hassled, no threats, no name-calling, nothing. Quent's presence was non-threatening. He was gentle, he was kind, and he was harmless and unassuming.
Q: Why did you leave London for the U.S.?
A: Well, in England you have to make friends, it's very tiring. And when you have made them, you get stuck with them. In America you never get stuck with anybody. Three weeks is a meaningful relationship.

There were a number of women waltzing through our apartment; after all I was a producer (just kidding!). Quentin referred to them as my "little friends" and always took time to make them feel welcome. He even joked that I was following his advice. "The ideal thing," he said, "was to have 365 friends and see each one of them once a year."
When we were not out on the town, Quent would do the usual stuff he did at home. He washed his socks, filed his nails, had a glass of wine (or three) and did his crossword puzzles. It was his only pastime other than people.
When asked what he did to kill time, Quent replied, "I don't want my time dead!" Oh, how we'll miss that Crisp wit!
More celebrities than I can mention were always popping up at the shows and afterwards. We'd meet them backstage or find a café for a chat. We were in Atlanta and heard that Rosemary Clooney was a huge fan. She was performing down the street from us at the famous Fox Theatre (
Gone with the Wind
fame). We were invited to the show and went backstage afterward. As Rosemary exited the stage, she walked right past us, no more than five feet from Quentin and I. She totally ignored him, or so we thought. We were perplexed and left the theatre feeling a bit awkward and started walking down the sidewalk when suddenly her companion (now her husband Dante) came running after us. It seems Rosemary doesn't wear her glasses on stage and without them she cannot recognize a soul without them. We were hustled back inside and spent a delightful half-hour with the incredibly wonderful Ms. Clooney. She explained how she drew inspiration from Quentin's tumultuous life and survival and that it paralleled some of her life's hard knocks and eventual triumphs. It was a touching moment for all of us. Quent touched so many lives, some so unexpectedly.
We knew how much Sting admired him. "An Englishman in New York" was a wonderful tribute and I know it meant a lot even though Quent always played it down.
But it didn't matter who you were to Quentin, a celebrity or a housewife. He would talk to you in a way that made you feel like the most important person in the universe. You always had his undivided attention, even if it were just for a brief moment. It was marvelous to watch and to be with Quent, as it was one hell of an experience.
The last time Quent and I got together was two summers before he died at the annual Cherry Grove Art Festival on Fire Island. We were selling his lithographed self-portrait and he would hand-color and personalize each one. As always, people were thrilled to see him, and he was his usual chatty self. But I could tell he was a little slower and a little shakier than years before. He tired more quickly and complained about the arthritis in his hands. He slept on the way back to the city that day.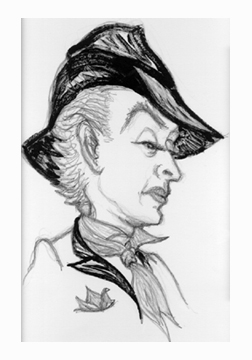 Quentin used to say, "My ambition is to meet everyone on earth before I die. I am not doing badly, am I!"
Well maybe you missed a few Quent, but, for those of us who had the privilege, we will always and forever cherish your thoughts and words. And we can delight in having been blessed by your presence on this earth, and in our lifetime.
Q: What would you want to be your last words?
A: Thank you for allowing me to stay so long
.
No Quentin. Thank you!
Essay and Quentin Crisp photograph copyright © 2005 by Michael Hirtz. All rights reserved. Used by permission.
Self-portrait lithography copyright © by Quentin Crisp. All rights reserved.