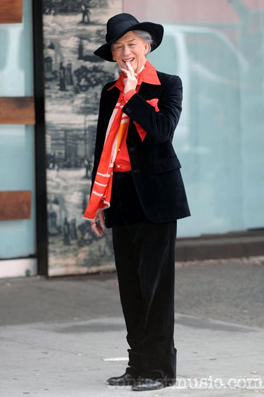 In 1975 John Hurt launched a remarkable career with the lead role in the movie adaptation of Quentin Crisp's autobiography
The Naked Civil Servant
, in which Mr. Crisp referred to himself as the "stately homo of England." Picking up where the 1970's classic
The Naked Civil Servant
left off,
John Hurt
reprises his seminal role as Quentin Crisp for ITV1. In August 2008, Mr. Hurt began filming in New York City with
Richard Laxton
, and produced by
Amanda Jenks
at
Leopardrama
for ITV1. Filming concluded in London on October 9, 2008.
The original play is considered ITV's most successful and highly rated single drama. Thus, much is hoped for to the legacy of Quentin Crisp's life in the new biopic,
An Englishman in New York
, which is written by
Brian Fillis
. "Quentin had always looked on New York as a romantic place and he decided to go there after the success of the ITV drama," said Fillis. The new drama by Mr. Fillis is based on the diaries Mr. Crisp wrote in the newspaper
The New York Native
and on conversations with New Yorkers who remember him.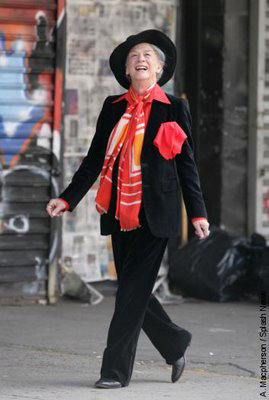 Setting off on the journey of a lifetime to New York City on September 13, 1981, the out-spoken Quentin Crisp was immediately embraced by New Yorkers and before long wined and dined by celebrities in every corner of the city. Mr. Crisp's romantic view of New York and America was colored by wartime relationships with GIs in London and by a love of Hollywood movies.
"He went there because he wanted to be his own man in a new city, and because he also wanted to entertain and be entertained," said
James Burstall
, executive producer of Leopardrama, the company making the play for ITV. "Choosing to shoot the film in New York was a risky decision as the drama industry works very differently in the U.S. from the U.K. But the huge amount of strategic planning and the leap of faith are delivering a first rate caliber of cast. There is a real buzz about the project in Manhattan as Quentin was a much loved and notorious figure—everyone has an anecdote to tell about him. And we've been touched by the number of friends and admirers of his (some of whom he never knew) who have wanted to help with the project in myriad different ways."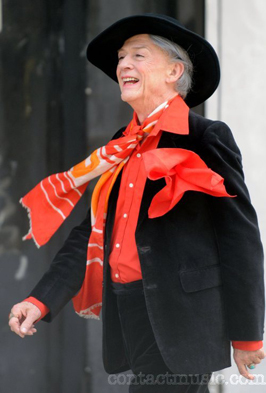 Laura Mackie
, Director of Drama at ITV, said, "We are delighted to be making another film about Quentin Crisp given
The Naked Civil Servant
was such a landmark film for ITV. It's a real thrill and honor to be bringing an actor of John Hurt's stature back to the channel to reprise such an iconic role. This is largely down to the quality of Brian Fillis' wonderful script, which completely captures the extraordinary and outrageous character of Quentin Crisp."
Nick Elliott
, who commissioned the play before he stepped down as ITV's head of drama earlier this summer and is remaining as ITV's drama consultant, said, "We're hugely excited by it."
Also joining the cast is Jonathan Tucker who stars as Patrick Angus, the young artist who befriended the English eccentric; Denis O'Hare as magazine editor, Phillip Steele (a character based on Phillip Ward and Tom Steele); Swoosie Kurtz as Quentin Crisp's American agent, Connie Clausen; and Cynthia Nixon in the role of Penny Arcade, the performance artist and playwright who formed a close bond with Mr. Crisp in his latter years. The two created the long-running performance/interview piece,
The Last Will and Testament of Quentin Crisp
.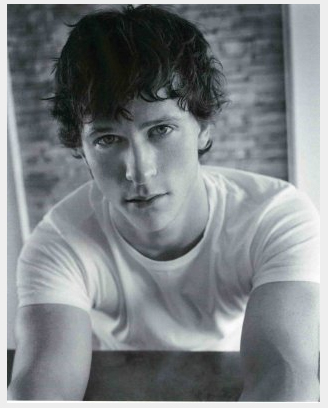 Actor and longtime ballet student,
Jonathan Tucker
, who portrays Patrick Angus, is frequently cast as the "boy next door" type. He has been performing on stage and screen for most of his life. Born in 1982 in Boston, Mr. Tucker established his love for the stage early on when cast in a Boston Ballet production of
The Nutcracker
. Though subsequently accepted for early admission at Columbia University, Tucker deferred in favor of actively pursuing a career as an actor. He made his film debut in 1994.
American realist artist
Patrick Angus
(1953-1992) produced keenly observed and compassionate depictions of the 1980s gay demimonde. His work captures, with sympathy, understanding, and wit, the longing and loneliness of many urban gay men of the era. All attempts to exhibit Angus' work were rebuffed. One of these humiliating efforts can be seen in the film
Resident Alien
, a documentary of the life of Quentin Crisp, one of Angus' first vocal supporters. Mr. Crisp writes, "Mr. Hockney has said that he paints what he likes to look at. No wonder he has bought several of Mr. Angus's paintings. Mr. Angus works on the same principle and, although at first sight, his pictures seem so deliberately shameless, he is really, in this respect, in a direct line of descent from artists such as Mr. Manet, whose picture of Olympia was, in its day, considered so shocking."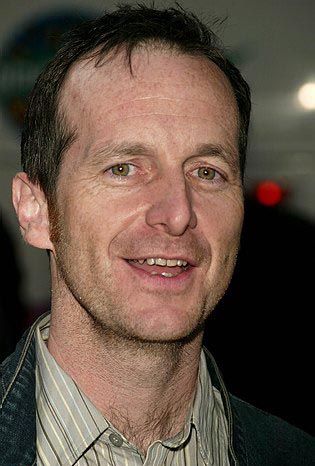 Denis O'Hare
portrays Phillip Steele, an amalgam of two close friends and confidants of Mr. Crisp: Phillip Ward and Tom Steele. Mr. O'Hare was born in 1962 in Kansas City, Missouri, and is a graduate of Northwestern University. He worked as a stage actor in Chicago before moving to New York, where he made his Broadway debut in 1995 in "Racing Demon". He has received a Tony, Drama Desk Award, Outer Critics Circle Award, Obie Award, Lucille Lortel Award and Broadway.com Audience Award for Best Featured Actor in a Play. Mr. O'Hare has appeared on television and in movies.
For 18 years,
Tom Steele
was the associate publisher and founding editor of the concurrent weeklies
TheaterWeek
and
The New York Native
and the monthlies
Christopher Street
and
Opera Monthly
. Mr. Steele employed Mr. Crisp to write many features, interviews, and reviews for those publications which eventually became the book
Resident Alien
.
Tom Steele is also author of cookbooks! He wrote
Burgers
with Rebecca Bent, collaborated with chef Patricia Yeo to write
Everyday Asian
, and with chef Jonathan Waxman created
A Great American Cook
. He also has written
Your Kitchen's Magic Wand: Getting the Most Out of Your Handheld Immersion Blender
, and is writing another cookbook with the self-explanatory title
Live a Little! Everyday Dishes With One Luxury Ingredient
. He has ghost-written and collaborated on dozens of books, including nonfiction volumes for Charles Osgood and Larry King. He has covered the New York arts, entertainment, and especially the restaurant scenes for Fodor's travel publications, and has written copiously for
Out
magazine,
Our Town
, and
West Side Spirit
, as well as for
fodors.com
and
out.com
. He has written dining features for
Time Out/NY
.
In the early 1980s, Phillip Ward became Quentin Crisp's personal assistant, dresser, typist, escort and travel companion. Mr. Crisp wrote, "My friend Mr. Ward has become my fingers and he types the words I speak....Mr. Ward makes it especially easy for me to continue to write articles for various magazines and newspapers....He is like your friendly innkeeer, adroitly steering me through much of life's chaos and complexities." Mr. Ward is editor of Quentin Crisp's final book,
The Dusty Answers
(unpublished). As Executor of the Estate of Quentin Crisp, Phillip Ward organized Mr. Crisp's memorial,
An Evening for Quentin Crisp
, held at Cooper Union's Great Hall on March 03, 2000, and co-edited the memorial tribute booklet
Quentin Crisp 1908–1999
.
Mr. Ward is content editor and webmaster of the Quentin Crisp Archives. He is also co-editor of
Van Gogh's Ear
, a joint publication of Allen Ginsberg's New York's Committe on Poetry and French Connection Press. Phillip Ward's writings and photographs have appeared in an array of magazines, journals, books, and on Internet. Such as:
Quentin Crisp: I'm An Englishman In New York
,
The Purple Journal, Van Gogh's Ear, Chiron Review, The Onion, HX, Bent Voices, Priapus,
Rende,
The Sentimentalist
, Pacifica Radio Archives,
Deaf Arts UK Magazine, GayToday
, nightcharm, The Tactile Mind Press,
The Aquarian, Rutledge Gnus
, and The New York Theatre Workshop. Mr. Ward's photographs and artwork have appeared in exhibits at Art@Large, The Blue Sky Project, Exit Art Gallery, Chelsea Market, Fourth Street Photo, The Emerging Collector, Caffé Rafaella on Seventh Avenue, Rafaella on Ninth, and The Rocking Horse Cafe.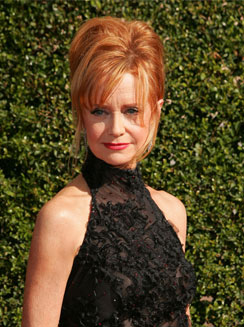 Swoosie Kurtz
plays the role of
Connie Clausen
, who was the long-time American agent for Quentin Crisp. Miss Kurtz was born in 1944 in Omaha, Nebraska. Her name "Swoosie" is derived from the air plane "Swoose" (half swan, half goose) which her father piloted in WWII. She attended University of Southern California and the London Academy of Music and Dramatic Art. Miss Kurtz has been awarded Broadway's Tony, Drama Desk, and Outer Critics Circle awards, and has also received an Emmy for her television work. She performs in all media and almost always receives stellar reviews.
Quentin Crisp wrote that "Miss Clausen was a wonderful lady. She took care of my many needs." Connie Clausen's career began in 1942 when she joined the Ringling Brothers and Barnum & Bailey Circus and performed as an acrobat in an elephant act. Her experiences in the circus provided material for her memoir
I Love You Honey, but the Season's Over
. After life in the circus, she worked as a magazine and television writer and started with MGM studios in Hollywood. Later, she moved to New York to begin a career as a Conover Model and as a successful Broadway and television actress. In 1971, Connie Clausen began a new career in publishing. As an assistant Vice President of Macmillan, she helped launch two of the company's best sellers,
Watership Down
and
Jonathan Livingston Seagull
. In 1978, she started her own literary agency, Connie Clausen & Associates, which had a series of best sellers. Originally from Menasha, Wisconsin, Miss Clausen died September 7, 1997 in New York City.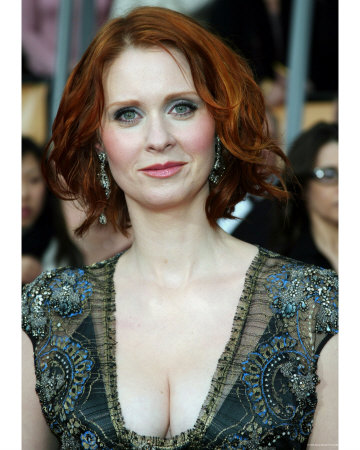 Cynthia Nixon
portrays performance artist Penny Arcade. Miss Nixon, born in New York City in 1966, has worked on the stage and screen since adolescence and is best known as Miranda Hobbes, the high-powered lawyer on HBO's
Sex and the City
. She has performed on and off Broadway since 1980. Miss Nixon made her film debut in the 1980.
Penny Arcade
is an internationally-known performance artist from New York's Lower East Side. Born in 1950 in New Britain, Connecticut and known as Susana Carmen Ventura, she became Penny Arcade after dropping LSD to amuse her mentor John Vaccaro of
The Playhouse of the Ridiculous
. As a teenager, she appeared in Andy Warhol's
Women in Revol
t. Over the years she has worked with Tom O'Horgan,
Charles Ludlam
,
La MaMa Experimental Theatre
,
Performance Space 122
. Her shows include
Based on A True Story, Invitation to The Beginning Of The End Of The World,
and
La Miseria
. In 1990 she created
BITCH!DYKE!FAGHAG!WHORE!
Penny Arcade and Quentin Crisp co-created
The Last Will and Testament of Quentin Crisp
, in which Miss Arcade interviewed Mr. Crisp on stage.
An Englishman in New York
made its world premiere at
The Berlin International Film Festival's Panaroma
on February 11, 2009. A press viewing was held on February 7, 2009. The film made its English debut at the 23rd London Lesbian & Gay Film Festival, with screenings on March 26th and 27th! Info
here.
Also shown was
Uncle Denis?
, a film by Quentin's great-nephew Adrian Goycoolea!
The movie's New York premiere was on April 27, 2009 at the
Tribeca Film Festival
, and made its U.S. television debut on Sunday, October 18, 2009, on
Logo
TV's Fall Film Festival. The movie is scheduled to be shown on ITV-1 around Christmastime 2009, followed by a DVD, released in the UK only, on December 28, 2009.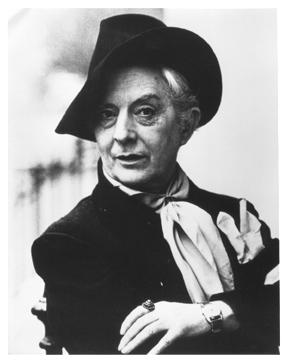 Born in 1908 as Denis Pratt, Mr. Crisp had tried journalism and the art world, but resorted to being a prostitute and then an artist's model. After the war he became well known in parts of London for his trademark bright make-up, crimson dyed hair and his painted finger and toenails. He lived his life as a minor celebrity before writing a couple of books and then his memoirs
The Naked Civil Servant
, which came out in 1968. They were reprinted at the time of the ITV drama.
Quentin Crisp
moved to America at age seventy-two, "when people my age rocked themselves asleep in nursing home. Not me! I want my time lived!" And live his life Quentin Crisp certainly did. Mr. Crisp died on November 21, 1999 (one month before his 91st birthday) in Manchester, England, during the night of his arrival to begin a one-month tour of his one-man show, "An Evening with Quentin Crisp." Organized by Phillip Ward with assistance from Mr. Crisp's family and friends, the memorial,
An Evening for Quentin Crisp,
was held on March 3, 2000, at Cooper Union's Great Hall.